Bryan Fitzmartin's selections for Best Outdoor Locations in the United States (part one of a series)
February 08, 2020
Review by Bryan Fitzmartin


There's a lot to be excited about below. This list contains some of the absolute best locations for outdoor adventures in the United States to consider for your next dream vacation. This is part one of a series, and part two is coming soon, with even more places for everyone will love to visit. For this list, we've compiled six of our favorites, and it's explained in their respective reviews what sets them apart and makes them some of the very best vacations spots. Our picks cover locations across a wide range of geographic areas -- from the Pacific Northwest, to the American South, the Southwest, and Northeast. So all regions and all areas of the USA are represented here, and a very fine selection has been created. So let's get right to the list:
Multnomah Falls, Oregon
Supposedly there's no place quite like Multnomah Falls, and what's especially nice is it's located just 30 miles from Portland Oregon (just take I-84 eastbound to exit 31, and follow along the path to reach the viewing area). The falls themselves (pictured below) are an astounding 620 feet tall. One may immediately notice, the iconic bridge in the photo – that structure is known as Benson Bridge, and its name is no accident. The name refers to Simon Benson, who was a local businessman who used to own the area in the early 1900s and gifted it to the city of Portland before his death. But that doesn't tell the entire story of the falls, according to Native American legend, the location was created to win the love of a princess who needed a hidden place to bathe. In reality, the waterfall itself is created from several things – the underground springs of Larch Mountain, but also rain and melting snow contribute to it and its grandeur. When you're there stop by the Multnomah Falls Lodge (constructed in 1923) -- inside can be found a restaurant which offers authentic northwest cuisine, a US Forest Service Information Center, and a giftshop. The location is an outdoorsman's dream and offers excellent hiking and amazing views of the Columbia River Gorge. It is recommended that visitors bring outerwear, a waterbottle, and check conditions of the trails with rangers ahead of time.





Cades Cove, Tennessee


Out in the Great Smoky Mountains National Park lies Cades Cove. The cove is the most popular area in the park and hosts a total of 2 million visitors every year. It's clearly a fantastic stop on our tour of the best areas for outdoor adventures in the United States. Cades Cove is known as one of the most serene areas in the Great Smokies – which is interesting because it also used to serve as hunting grounds for Cherokee Indians (for hundreds of years, in fact). However, it is often noted that no Cherokee settlements in that location have ever been found, and it is thought by archaeologists that it is not the case that Cherokee ever actually lived there. During that time, it went by the name "Tsiya'hi" (which means "Otter Place"). Since no Cherokee resided in the area (and only hunted in the cove), the first people known to settle the location were actually Europeans, which occurred between 1818 and 1821. They gave the land a new name, which was "Kate's Cove." One may wonder, who exactly the "Kate" it was named after was – in fact, it the Kate in question was actually the wife of Chief Abraham (of the Chilhowee tribe). One of the attractions of this incredible outdoor gem are buildings from the 18th and 19th centuries -- including log houses, barns, a grist mill, and churches. Cades Cove is second to none when it comes to hiking, camping and biking. For hiking, there are many trails including some to Thunderhead Mountain, Abrams Falls, and Rocky Top. For camping, it hosts a campground that is open year round and has 159 sites; it allows for tents and for RVs up to 35 feet. Biking is also a major attraction at Cades Cove. The Cove comes recommended by many as one of the most scenic and best outdoor locations in the USA – so on your next trip, consider giving Great Smoky Mountains National Park and Cades Cove at try.








































Skagit Valley, Washington


The Skagit Valley in Washington State is best known for not only its tulips, but its tulip festival which is held every year for the entire month of April. The area also hosts many attractions such as a casino, theaters, museums, and even a distillery, but its also known as one of the best outdoor locations in the United States, and even better – it's only an hour away from Seattle. Some of the area's excellent hiking sites include the Guemes Channel Trail (running from Ship Harbor Boulevard to Ferry Terminal Road) which, built along old rail corridors, is 1.2 miles long. Another longer trail is Padilla Bay which is an eight mile long estuary, however, the actual hiking trail, is only four miles long, but it is an excellent place for bird watching and it is also possible to see marine wildlife there. There is also the Port of Skagit Trails – located near Higgins Airport, the area is 10 miles long and configured in a loop, which allows for excellent hiking. Then there is the Cascade Trail which is much longer than all the others, twenty two and a half miles in fact, and like Guemes Channel also follows an abandoned railway. Finally, the Skagit River Loop trail (1.8 miles long) offers some extremely scenic viewing along the edge of the river it is named for. In all these trails, the possibility of seeing some impressive wildlife exists as this is one of the draws of Skagit Valley so be sure to be on watch for that as well.










































Colorado River, Arizona


If you love whitewater rafting then this is certainly the ultimate destination for your next outdoor vacation. It was the great Colorado River that originally carved out the Grand Canyon and today one can still visit that mighty river. Fishing, Boating, Rafting, Camping, Hiking – all that is possible on the Colorado River and more. Five towns dot the landscape along the Colorado: Bullhead City, Lake Havasu City, Parker, Yuma, and Laughlin (which, interestingly enough is in Nevada unlike the other four towns). The area boasts an impressive four total state parks. When it comes to hiking, Buckskin Mountain State Park (located near the town of Parker) is second to none; while the park has many trails to explore, it's the River View trail that is particularly exciting. From that trail someone can gaze upon a grand view of California on one side, and Arizona on the other; there are also some abandoned mines along the path as well. Other than hiking, there is also camping, boating, and fishing available there. A mile away from Buckskin Mountain lies River Island State Park. Since it's located such a short distance away, River Island's hiking trails connect with Buckskin's, so it's possible to hike directly from one park to the other. This park offers all the attractions of Buckskin, and the only major difference lies in it's size – River Island is much smaller than Buckskin, but even though it's not as large, there's no doubt the views and outdoor experiences it offers are still second to none. Another state park that helps reveal all the outdoor adventures the Colorado River has to offer is Lake Havasu park, which offers amazing swimming, boating, kayaking, rafting, and of course fishing. However, hiking and camping are also available at this great location. The last (and certainly not least) area state park is Cattail Cove which, like River Island, is in practice, just a smaller version of Havasu State Park with many of the same attractions. However, when it comes to Cattail Cove its fishing and wildlife are very amazing and offers fishermen and women catfish, crappie, and bass – all a great catch. When hiking through this outdoor gem, be on the lookout for bighorn sheep and the many different species of birds passing through the area. There's no doubt that when it comes to outdoor adventures, the Colorado River is second to none, and it spans not just one location, but many, and there's so many different ones to explore. For you next outdoor trip, it may just be the Colorado River that you're after.















































Arlington Green Covered Bridge, Vermont


Located on the Battenkill River lies one of the most scenic places in the United States and an excellent location for outdoor tours or excursions. Constructed in 1852 the Arlington Green Covered Bridge boasts some impressive 19th century architecture and uses a "Towne Truss" design. The local Arlington Inn is right nearby, there is also a parking lot near a local fishing hole which gives outdoor adventurers some opportunity to enjoy what the location has to offer. One can also find the former home of Norman Rockwell located not far away (in fact just up the road). In 2011, the bridge (which has stood proudly over the river since the mid-1800s) was damaged by Hurricane Irene when it was sadly impacted directly by a falling tree causing the location to be temporarily closed. Fortunately for everyone, the bridge has been fully repaired and is now once again open to outdoors adventurers.














































Watkins Glen, New York


Want to visit a place where you can see a total of nineteen waterfalls within two miles? If so, then Watkins Glen in upstate New York would be the perfect spot for your next dream vacation. Unlike some of the other locations on our list, this one offers horseback riding which makes it a great choice. For outdoor adventures, one absolutely wants to visit Watkins Glen State Park which is considered one of the prime spots in the area – in fact it's been awarded a special distinction. In 2015 USA today allowed its readers to make their choice for best state park in America from among a total of 6000 parks, and Watkins Glen won the award for 3rd place, an amazing achievement to be sure. Clearly this a state park worth visiting, and not just for its nineteen waterfalls (although that is a great reason in and of itself), but also because the site boasts a campground, an Olympic sized swimming pool, picnic facilities, world-class fishing in nearby Seneca Lake and Catherine Creek (featuring rainbow trout in the spring), and also several different hiking trails. Indeed, they have available some of the most scenic and amazing hiking trails in the entire United States – who knew they could be found in the heart of upstate New York? While clearly one of the best outdoor locations in the America, the larger Watkins Glen area also offers many excellent wineries, distilleries, breweries, and excellent dining locations such as the Nickel's Pit BBQ.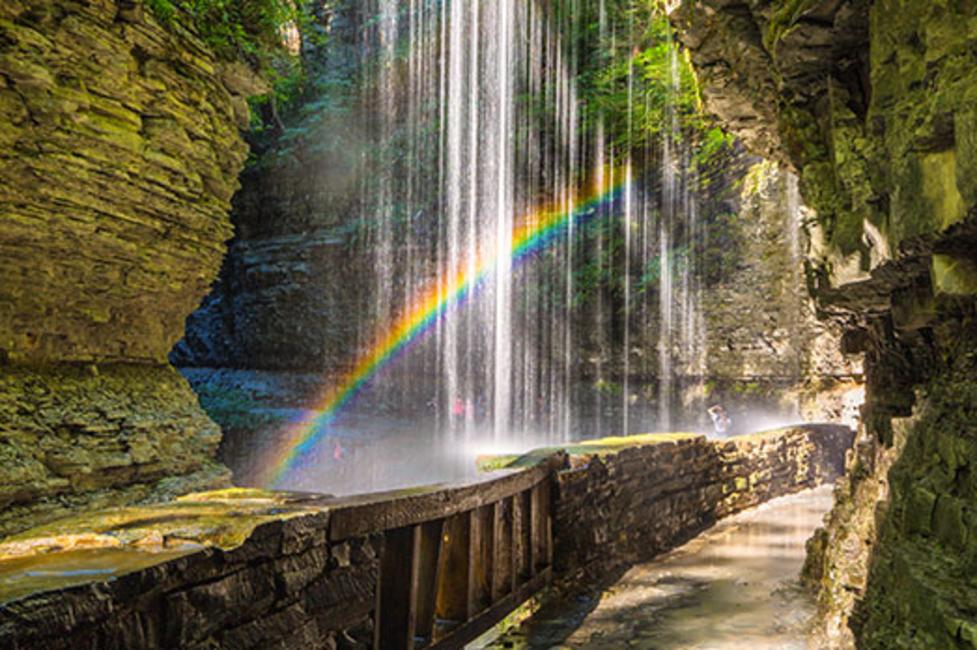 Hopefully, everyone loved the selections above and some excitement has been generated about some fantastic places to visit. From the Grand Canyon in Arizona to Watkins Glen in Upstate New York to Skagit Valley an hour outside of Seattle and beyond – these destinations set themselves apart from the pack. Hopefully, there has been something for everyone here. But part two of this list is coming soon, and it will feature a similar number of selections for best places to experience the great outdoors in America. Check back here soon to find what's new.